Quality New England Boer Goats
Southbury, Ct.
Rollin J. Hannan, Jr.
Rollie was born on a small farm in Southbury, Ct. He is the oldest of three boys. His family raised sheep and cattle (both beef and dairy). Rollie tried his hand in many areas of agriculture until he found his niche. At the age of 15, he caught his first swarm of honeybees and thus the love affair, some might say obsession, began.

Rollie now has about 400 hives and is one of the largest beekeepers in the state of Connecticut. He is the owner and CEO of Hannan Honey, LLC. which provides pollination services, queen breeding, and produces a rich New England Wildflower Honey.

After high school, Rollie attended Paul Smith College where he graduated with an Associates degree in Urban Forestry. He continued his education at Cornell University where he studied apiculture under the esteemed Roger Morse.
Tricia L. Hannan

I was born & raised in the town of Guilford, Ct. in a small middleclass subdivision. When I was a little girl I told my parents that I wanted to be a farmer when I grew up. Everyone thought I was nuts and that this "phase" would pass. I couldn't wait for fair season, just to see and touch all the animals, especially the baby goats. Thus began my obsession with the little devils.

As I grew into a wild teen, the thought of ever living on a real farm grew dimmer and dimmer. I attended Southern Connecticut State University. After earning my B.S. in Biology, I landed my first job with Yale University. My first summer I was laid off & found a temporary employment at Lockwood Farm.

Enter nice, cute boy on tractor. The rest is history.

One day, to my surprise, Rollie bought me a goat! A pregnant goat!!!!!!!!

....And, here we are....

Some days I still can't believe what God has blessed me with. I can't wait to see what He has in store for me next!

About Us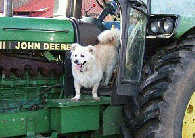 Lola
I'm a City Dog turned Country Dog.
I was born at the West Haven Dog Pound in the Fall of 2002. On December 4, 2002, I went to live with my new Mommy on Martin Street in West Haven. After a few years we went to live with my Grandma and Grandpa in the suburbs. Then, my Mommy met my Daddy. Now, I spend all my time on the farm running, playing, and swimming in the pond! I'm so glad Mommy and Daddy got Boer goats because my favorite snack is Goat Berries!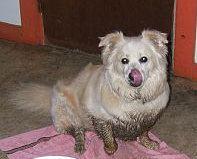 This is a picture of me after taking a dip in the pond and snacking on some goat berries!